2019 Young Leaders Day
11 Apr 2019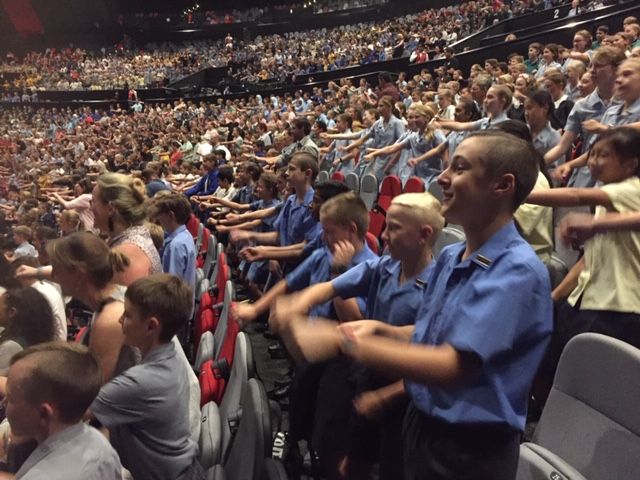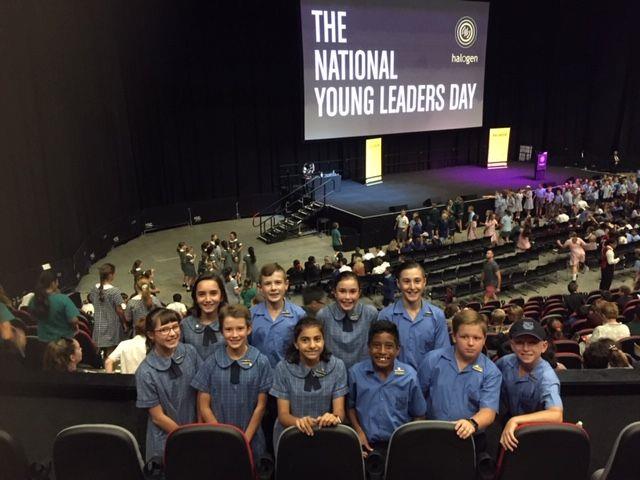 On Monday the 11th of March, the school and sports captains travelled to the city by train for the Halogen National Young Leaders' Day (NYLD).
We listened to four famous Australians that had all done something special. These were; Tim Diamond, Tamsin Janu, Cate Campbell and Holly Ferling. The day was hosted by Liv Phyland and DJ Raph. All of the OLOL school leaders received a Halogen Pin. A Halogen Pin represents leadership, and we wear it with pride.
---
Tim Diamond
Tim Diamond is the founder of the Cotton On Foundation. He told us where the money goes when we buy the charity items on sale at Cotton On stores. Tim and his team have travelled to Thailand, remote parts of Australia but mostly to Uganda and South Africa. They have rebuilt schools for the poor children and upgraded their school facilities. He says that their aim is to build or rebuild 20,000 educational places by 2020.
---
Tamsin Janu
Tamsin Janu is a children's author and has written books about her journeys to other countries. Tasmin said she found it difficult to live there because of their lack of basic facilities. She moved to Ghana in Africa for three months when she finished high school, she said she found it difficult to see how they lived. Tamsin talked to us about her problems as a teenager and how to overcome them. Tamsin loved writing but found it hard in high school because she had to write a story about a topic that was given by her teacher instead of using her own imagination and ideas in her stories. Her stories such as Figgy in the World are based on her travels.
---
Cate Campbell
Cate Campbell is an Olympic swimmer, born in Africa. She talked about her hip accident as a 12 year old and how she overcame her injury. She brought to the presentation items that meant most to her in a bag. Cate told us about how she started swimming and showed us some of her commonwealth medals. She told us how she only started training harder because she wanted to beat her sister. Cate has had the same coach [Simon Cusack] ever since she was a young girl. She spoke with pride and gave us a strong recount of her past that gave an insight into her life.
---
Holly Ferling
Holly Ferling is a female Australian cricketer who has played for Brisbane Heat and now has a contract with Melbourne Stars. Holly used to be the only girl in her town's cricket team. Holly's brother was her biggest supporter, she was always in his team until they had a women's league. Holly has had a lot of injuries in the past, but she sees setbacks as "life's way of saying do you really want this?".
---
The key messages from these inspirational leaders that we took away from the day are:
A small action can make a huge impact on the world
Tim Diamond | Cotton On Foundation
All you need is a plan ... and courage."
Tamsin Janu | Children's Author
If you want to achieve something great, you have to work towards it.
Cate Campbell | Olympic Swimmer
Embrace the scary but exciting!
Holly Ferling | WBBL Melbourne Stars Bowler
By School Captains Thomas Fahey, Catherine Holmes and Sports Captains Jessie Raad, Thomas Pollard, Zarah Mowbray, Mason Lanfranca, Mary -Rose Mejalli, Juan Burgess, Zoe van Zoggel, Rhys Webster.
Facebook
23 Sep 2023

What a wonderful way to finish the term. OLOL students show their creative talents through dance. A great community event. 🕺🤸‍♀️🎼

21 Sep 2023

Great to see all the students, teachers and parents joining in for the final Macarena dance in our Creative Arts Concert this afternoon! 💃🕺