2019 New Playground Equipment
16 May 2019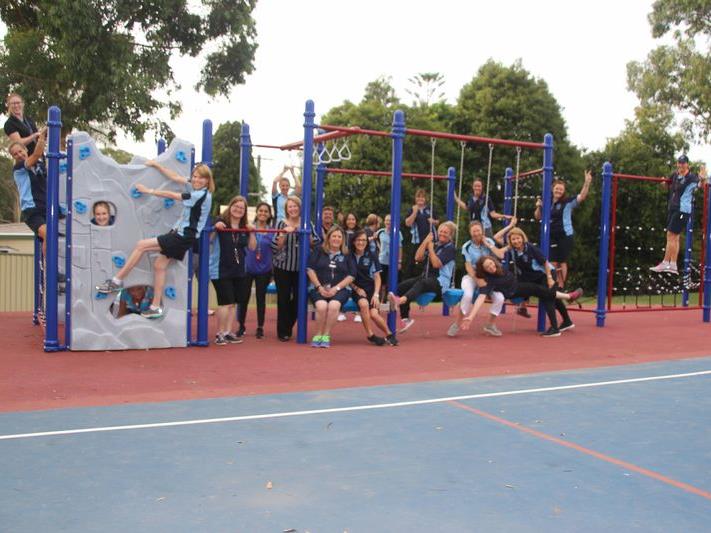 This week saw the opening of our new play equipment.
This was a source of great excitement for students and staff alike. To ensure that the playground is used in a safe and responsible way we have put a number of measures in place.
Firstly all students have been oriented to the playground by Mrs Brogden, our specialist PE teacher. This orientation involved the students, during their scheduled PE lesson, being given an opportunity to explore the equipment, but also to have important safety measures explained to them. Students were encouraged to plan their ascent and descent. The "belly button rule" was introduced whereby the children were directed to keep the top rail of the equipment above their belly button to ensure that their centre of gravity was maintained. Students were given a chance to experiment and appropriate use of the various elements of the equipment was explained. Thus all were familiarised prior to the free play period.
Secondly we have developed a roster for use of the equipment to ensure appropriate numbers of children on the equipment at any given time and also to ensure that we have children of similar age/ability using the equipment at any given time. Each class has either a morning tea break or a second half of lunch allocated for their time on the play equipment, with the exception of Kindergarten and Year 1 who have their turn during their weekly Gross Motor sessions. The classes are rostered so that the younger students access the equipment at recess when it is cooler, the older students, who are more readily able to monitor themselves with the heat, are rostered at lunchtime.
Finally we have allocated one teacher to monitor the play equipment during the breaks. This is in addition to the playground supervision we previously had in place. The planned transition has been very successful. The new equipment not only adds to the students enjoyment of our playground space but provides another piece of equipment that can be used creatively to enhance student learning. If you have not already had an opportunity to see the equipment our Catholic Schools Week Open morning, details of which are contained elsewhere in the newsletter, is a great opportunity to do so.
Facebook
23 Sep 2023

What a wonderful way to finish the term. OLOL students show their creative talents through dance. A great community event. 🕺🤸‍♀️🎼

21 Sep 2023

Great to see all the students, teachers and parents joining in for the final Macarena dance in our Creative Arts Concert this afternoon! 💃🕺