Mentors help students form scientific inquiry skills
27 Jun 2014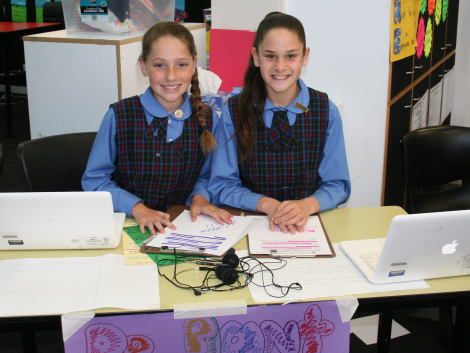 Students Halle and Olivia with their presentation
Year 5 and 6 students from Our Lady of Lourdes Primary Seven Hills presented a range of interesting science projects after working collaboratively with an experienced science mentor over the last six weeks.
Parents, grandparents and science mentors came to see students present their research findings and share their knowledge on their particular area of investigation.
The My Science program developed by Year 5/6 teacher, Sally Biskupic, sees qualified scientists and researchers come into the classroom for one hour each week to work with students and develop their understanding of scientific method.
Sally says the students have been learning about natural disasters and this project challenged them to come up with ideas to try and limit the damage from natural disasters such as sinkholes, earthquakes, landslides, floods and bushfires.
'Students have really enjoyed the experience and learnt a lot about how to investigate an idea and test it scientifically,' said Sally. 'They love having their mentors come in to work with them and it really improves the level of their understanding. It's very positive experience for students to work with someone who knows about scientific method and takes their ideas seriously,' said Sally.
Students Halle Blyburg and Olivia Morales investigated whether the root systems of plants can help to prevent sinkholes.
'We really liked working with a mentor, they know a lot about our work and did extra research for us at home,' said Olivia. 'Our mentors Peter and Melissa helped us design our experiment and without their help we'd probably still be stuck on choosing a research question,' she said.
Halle said enjoyed the support of a mentor because of their understanding of the scientific process.
'They helped us with our experiment, we didn't really know what to do at the start and they helped us to get into it,' said Halle.
Dr Cameron Webb, a science mentor from University of Sydney based at Westmead Hospital has been involved in My Science initiative for several years and enjoys being able to talk about science, coming up with ideas, testing them, collecting data and reporting results.
'When we look at some of the experiments the children come up with, they're really great ideas,' said Cameron. 'It's been great to see them independently come up with ways they can test their ideas, particularly in relation to natural disasters.'
David Spadaro, from the CSIRO's Land and Water division, participated in My Science for the second time as mentor.
'It's a lot of fun and a good way to broaden our communication skills and give back to the community with something that we're skilled in,' said David. 'We help the students get an understanding of scientific method. They come up with the ideas and we just direct them in a way that will give them a testable question and give them some results they can present in a scientific way,' he said.
David mentored Tyrone Brus and Travis Donaghey who conducted an experiment to see which materials could protect the foundations of a house from a landslide.
'We used rocks, sand, clay and potting mix with some interesting results,' said Tyrone. 'We found that rocks would be a great material for drainage while sand and potting mix are better for use in sandbags to protect the house.'
Travis thought it was fun coming up with the idea for the experiment and then doing the experiment independently. 'It felt like we accomplished something by ourselves and I enjoyed working with David our mentor,' said Travis. 'He knew a lot about the topic we are researching and helped us to understand more.'
Facebook
23 Sep 2023

What a wonderful way to finish the term. OLOL students show their creative talents through dance. A great community event. 🕺🤸‍♀️🎼

21 Sep 2023

Great to see all the students, teachers and parents joining in for the final Macarena dance in our Creative Arts Concert this afternoon! 💃🕺