DISCOVER CATHOLIC EDUCATION
Transforming learning - Curiosity to clarity
Take a virtual video tour of our school and explore the amazing opportunities we're creating for our students
Our Lady of Lourdes Catholic Primary is a dynamic learning environment that seeks to cater to all students.
We follow our motto, "Innovative learning in a Changing World" by providing a range of programs to support our students at various stages in their school life. The following are some of our programs.
---
Transition to Kindergarten
Children identified as requiring support during the interview process are visited in their preschool.


Following acceptance of enrolment, children and parents attend an orientation morning in November.


In February, children begin in small groups and are not placed in class groups until the third week of school. During these three weeks, children are observed and assessed academically, socially and behaviourally.
---
Transition to the Playground
During the first two weeks of school the Kindergarten children play on a separate playground to the whole school population. A number of older children act as buddies to facilitate the children's play. At the end of the two-week period the Kindergarten children then move to the big playground.


Within this larger playground a Kindergarten play area is established with a variety of pieces of play equipment and toys provided for the children.


This program has been found to be successful in bridging the gap between the early childhood playground and the much larger school playground environment.
---
Student Leadership
We have a leadership team of two school leaders from Year 6.


We also have eight Sports leaders who are elected by their peers at the beginning of each year. Their role is to support their colour house and provide support to teachers in organising sporting equipment and events.


Students from Year 3 to Year 5 have the opportunity to be a part of our school's Student Representative Council. All of our student leaders are elected by their classmates and have a prominent role to play in our school life.
---
Social Justice
We encourage our students to become involved in meaningful ways that can help others locally and globally.


We support our local community through making hampers and blankets for our local St Vincent De Paul Society.


We visit our local preschools and nursing homes to connect and celebrate with both our younger and older community members.


On a global level, we raise funds for missionaries through Project Compassion each year. We have developed connections with The Galilee School in Kenya and have raised funds to support this school in building classrooms for their students.
---
Innovative Academic Programs
In Early Stage 1 and Stage 1, students are involved in Investigations which is a student-centred, open-ended approach to learning.


In Stage 2 and Stage 3 students are involved in PBL (Project Based Learning) tasks that students complete in groups, linked to a variety of Key Learning Areas.
---
Learning Support
A learning support teacher is allocated to work with a particular Stage group. This teacher provides in-class support and assists the class teacher to modify their programs to suit the needs of individual learners.


The school provides the intensive programs of EMU (Maths) and Reading Recovery where specialist teachers work with individual vulnerable students.
---
Technology
In all classes, children have access to a variety of forms of up-to-date technology.


The technology provides children with tools that enable them to express their learning in a variety of ways, some of these include creating movies, podcasts, powerpoint presentations, graphics, and many more.


Teachers and students are adapting the use of Google Docs and Google Classroom learning tools to present and share their learning.
---
Modern Facilities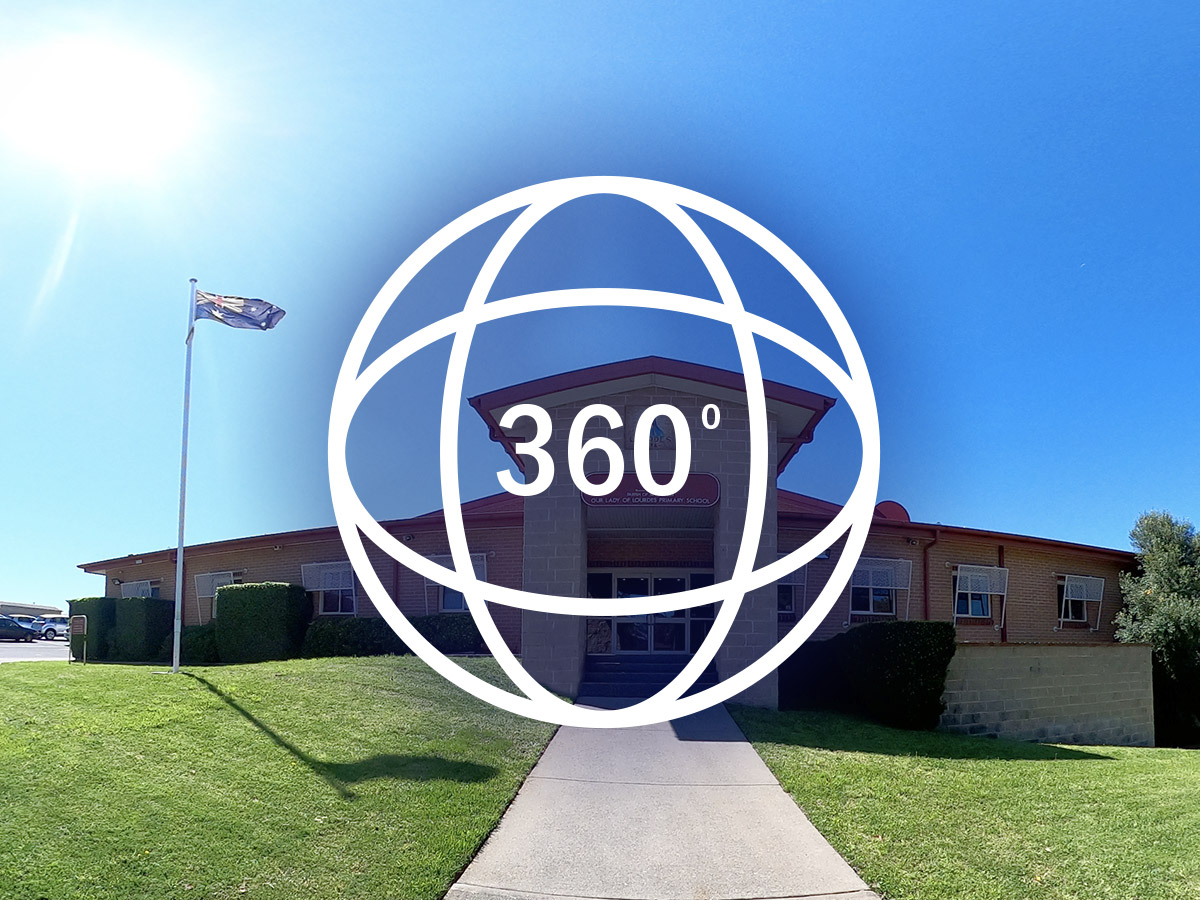 Our Lady of Lourdes Catholic Primary is located on the same site as our Parish Church. Our school environment is a quiet, safe and completely enclosed environment with open play areas, including a large grassed area.


We have modern, open plan classrooms and learning spaces, which are light-filled and furnished with ergonomic student furniture. All of our learning spaces are air-conditioned for an optimum learning environment.


We offer on-site before and after school care.


We also have an outstanding hall facility which is shared with our Parish community. There is ample off-street parking, which ensures the safe drop off and pick up of our students.
---
Come and see learning in action at Our Lady of Lourdes!
We'd love a chance to show you how learning works for young people in our school.
Our dedicated teachers plan the learning in detail to help each child do his or her best.