2022 Education Mass.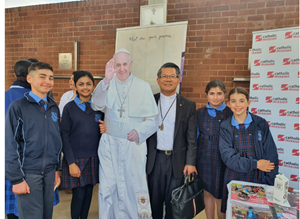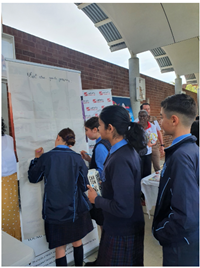 On Thursday 8th September, Ms Byrnes, Javiar, Anika, Christina, Sienna and Mrs Bou Serhal attended the annual Diocesan Education Mass celebrated by Bishop Vincent. Mass was followed by the Agency Mass expo to highlight the work of Mission Agencies in the Diocese of Parramatta.
The mass for the Parramatta Diocese was a welcoming experience. We are very fortunate to have attended such a beautiful celebration of catholic education. Representatives from all
schools in our Diocese attended. As it was the feast of the nativity all hymns were reflective of the divine grace of Our Lady. The church's decor was beyond stunning and the phenomenal hymns produced by the amazing students of Catherine McAuley, really stood out.
As well as a great spiritual experience the missionary expo provided us as students, with the awareness of world wide problems such as refugee support and food donations. There were a wide variety of both primary and highschools which were all just as respectful and reverant as each other.
A huge thanks to the parish of St Patrick's Cathedral, Bishop Vincent and Ms Byrnes as well as the parent helpers for making this experience possible.
Javiar, Anika, Christina and Sienna.