2022 OLOL Totem Project.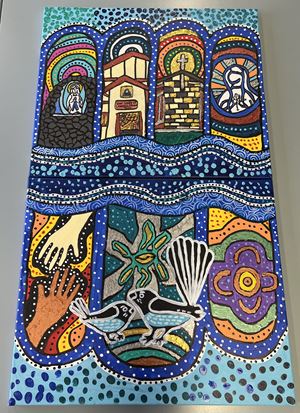 Over the past few weeks OLOL has been busy desigining and creating our school Totem Project. A totem is a natural object, plant or animal that all Aboriginal and Torres Strait Islander people have connection to. Each individual can have several totems that represent different levels of kinship and connection.
Our SRC students have been busy researching with Mrs Messina the Willy Wagtail and other symbols to represent out school. They are sharing this information in a Slideshow over the next few weeks at assembly.
We are very proud to share our totem paintings on Canvas- showcasing 7 hills and in each hill a symbol: Our Lady of Lourdes, Our School, Our Parish, Mary Our Mother, a symbol for Students, the Willy Wagtail and a symbol for community. Every student in the school helped Mrs Willemse paint the Totem Project, by adding a fingerprint dot. We are thrilled with how it's turned out and are looking forward to seeing it be presented as part of the Catholic Schools NSW Aboriginal and Torres Strait Islander State Education Conference in October